ABOUT

JEFFERSON'S

RESTAURANTS
The Original Jefferson's Restaurant opened in Jacksonville, AL. on September 15, 1991 and Jefferson's was an immediate hit. People loved the huge juicy hand-pattied burgers (still do!), fresh gulf oysters and world famous delicious wings.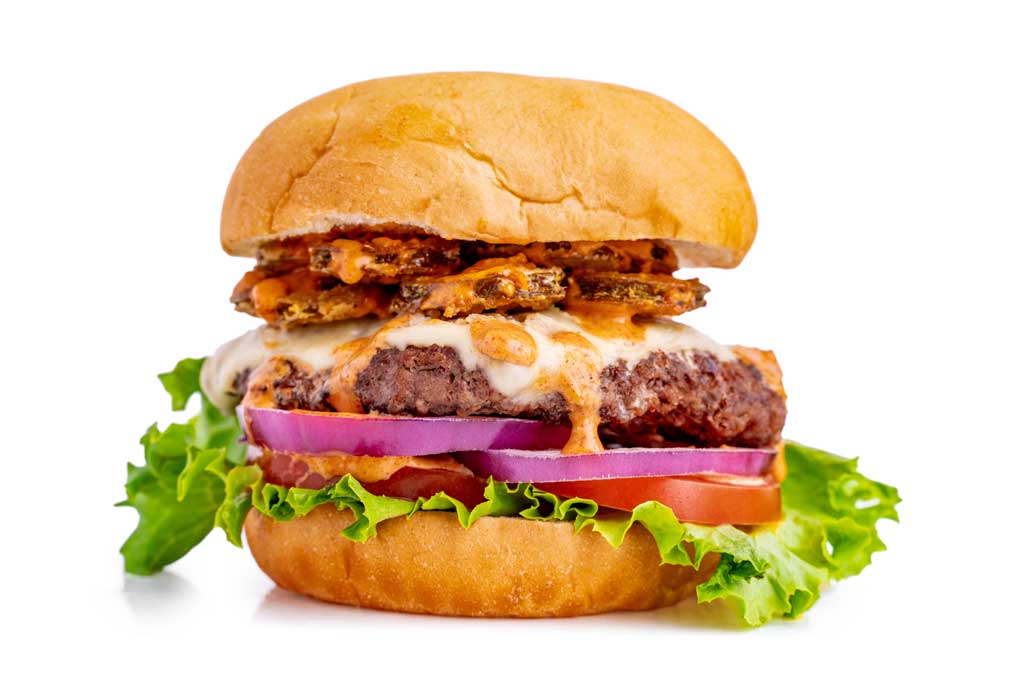 The Original Jefferson's Restaurant opened in Jacksonville, AL. on September 15, 1991 and Jefferson's was an immediate hit. People loved the huge juicy hand-pattied burgers (still do!), fresh gulf oysters and world famous delicious wings.
"IN THE EARLY DAYS, PEOPLE LOVED OUR WINGS SO MUCH, WE USED TO RUN OUT OF THEM"
We opened our second store location in June of 2000 in Lawrence, Kansas. Once again Jefferson's was an instant hit. Located on historic Massachusetts St. in downtown Lawrence, Jefferson's has blended nicely with the eclectic mix of restaurants and pubs and has been a Lawrence favorite for 18 years. Thanks to our loyal customers, we now have 28 (headed toward 30) Jefferson's in Alabama, Georgia, Tennessee, Illinois, Missouri and Kansas. We would love to serve our world famous wings in your home town.
Thanks again,
Jefferson's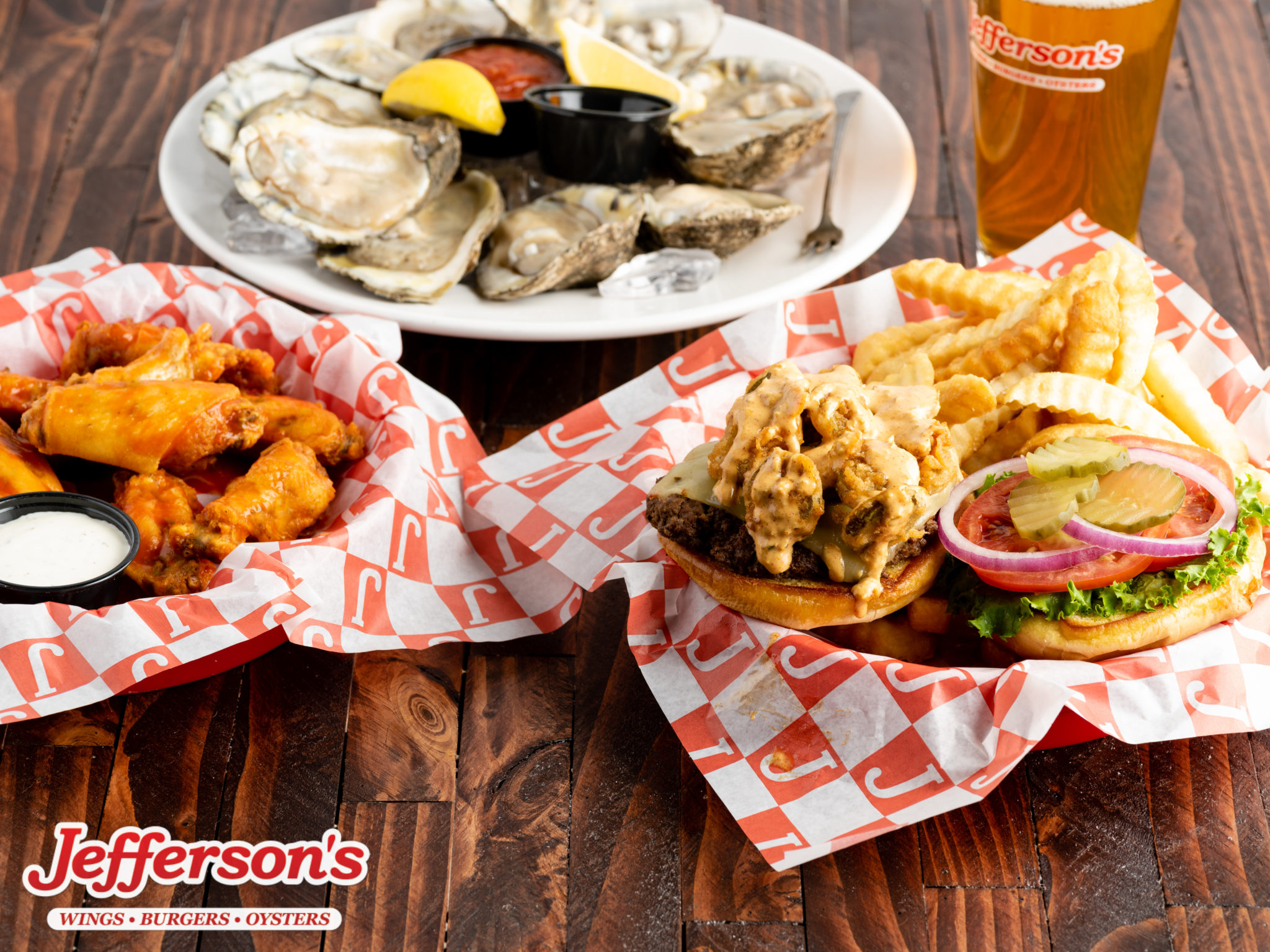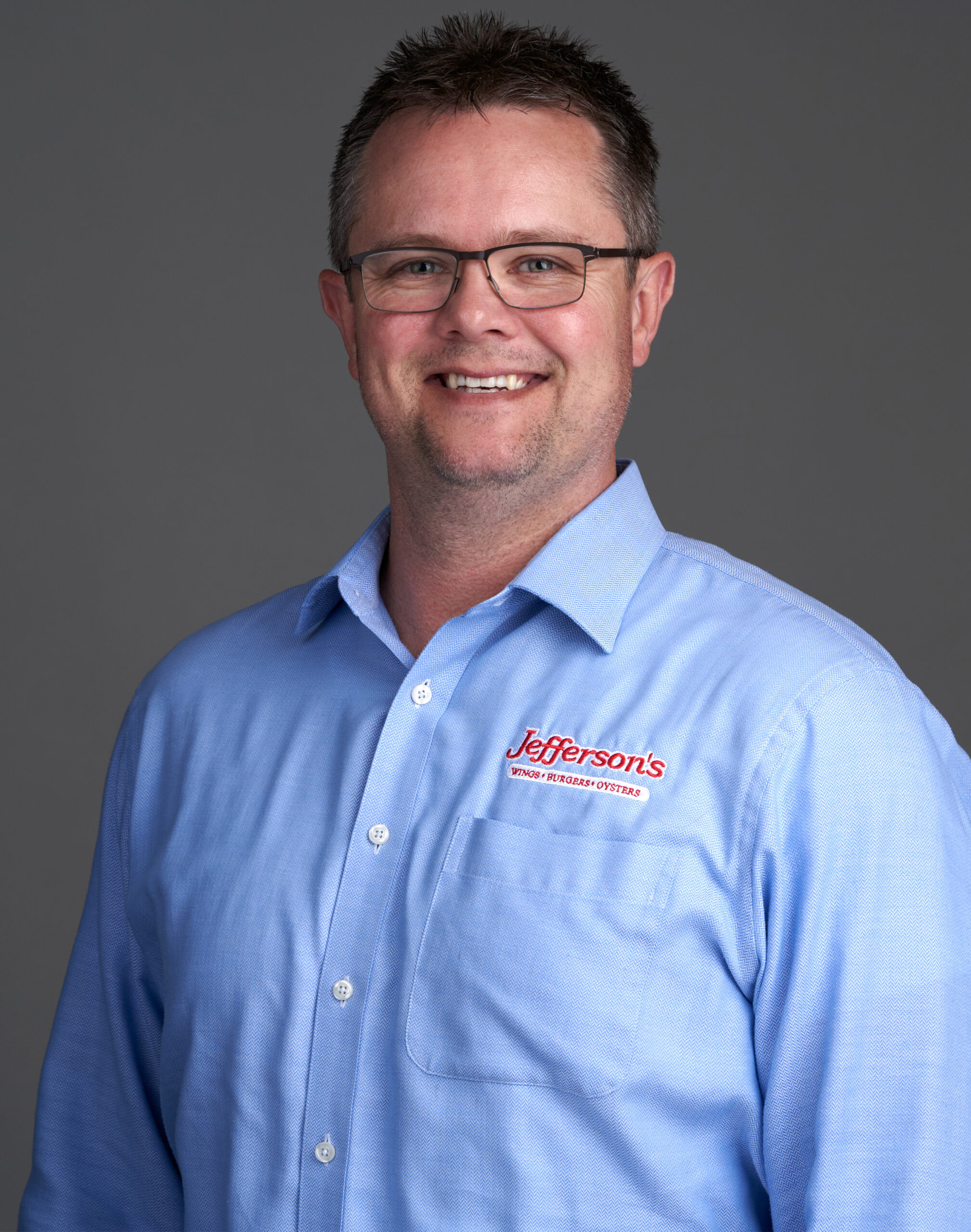 Brandon Graham graduated from the University of Kansas, where his love for Jefferson's first started in 2000 when they opened their second location ever in his hometown. He's been a franchisee for almost 10 years now and worked for corporate for 6 years before acquiring the brand in April 2018.
Additionally, he has owned and operated four other concepts before and during his time with Jefferson's. Brandon understands franchising, and the impact that leadership and partnership from the franchisor makes to the operators that work hard to build the brand every day.
He's married and has 10-year-old triplet boys who enjoy being in their two family owned restaurants in Lawrence. They're the biggest double dipped wing fans you can find and really enjoy "helping" the servers in the restaurants!
As a 30 plus year veteran of restaurants, Ned has done it all in the business. Still not afraid of busing a table or making a drink at the bar, he loves all aspects of this business. His strength has become the business side of restaurants. The last 15 years have been focused on real estate, franchising, and helping people bring their dreams of owning their own business come to life. His daily focus is to negotiate the best possible products at the best possible price coming into the back doors of our restaurants.
Ned said he joined Jefferson's because of the unbelievable passion displayed by the support center team, franchisees, and direction of the company. This brand is going places, and he is excited to be a big part of its success. His free time is spent watching his 12-year-old son play baseball and anything to do with the Kansas Jayhawks.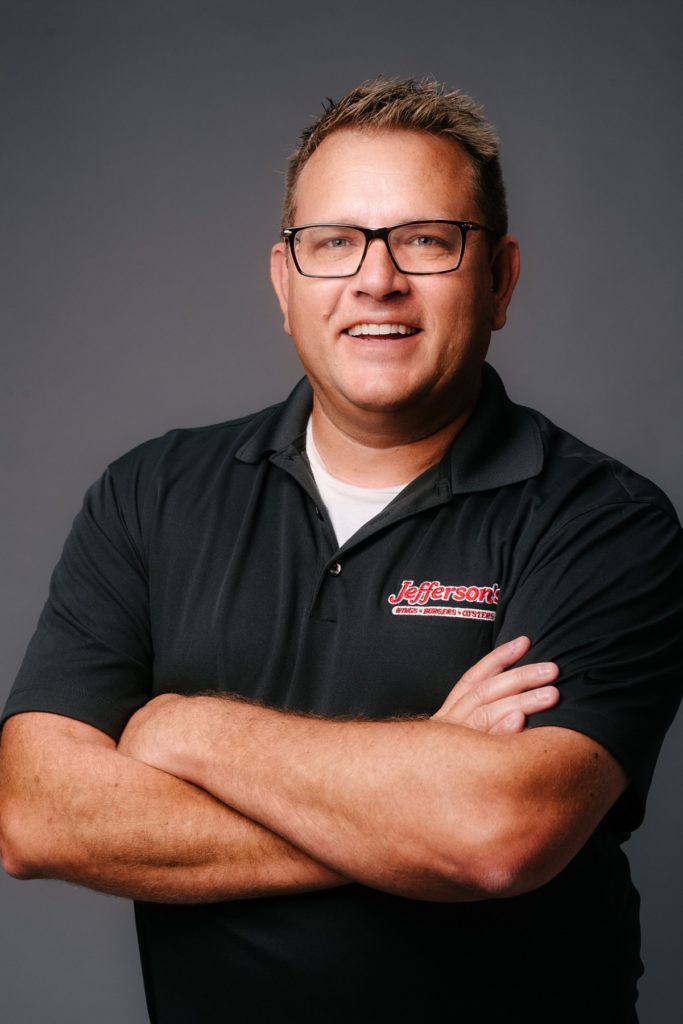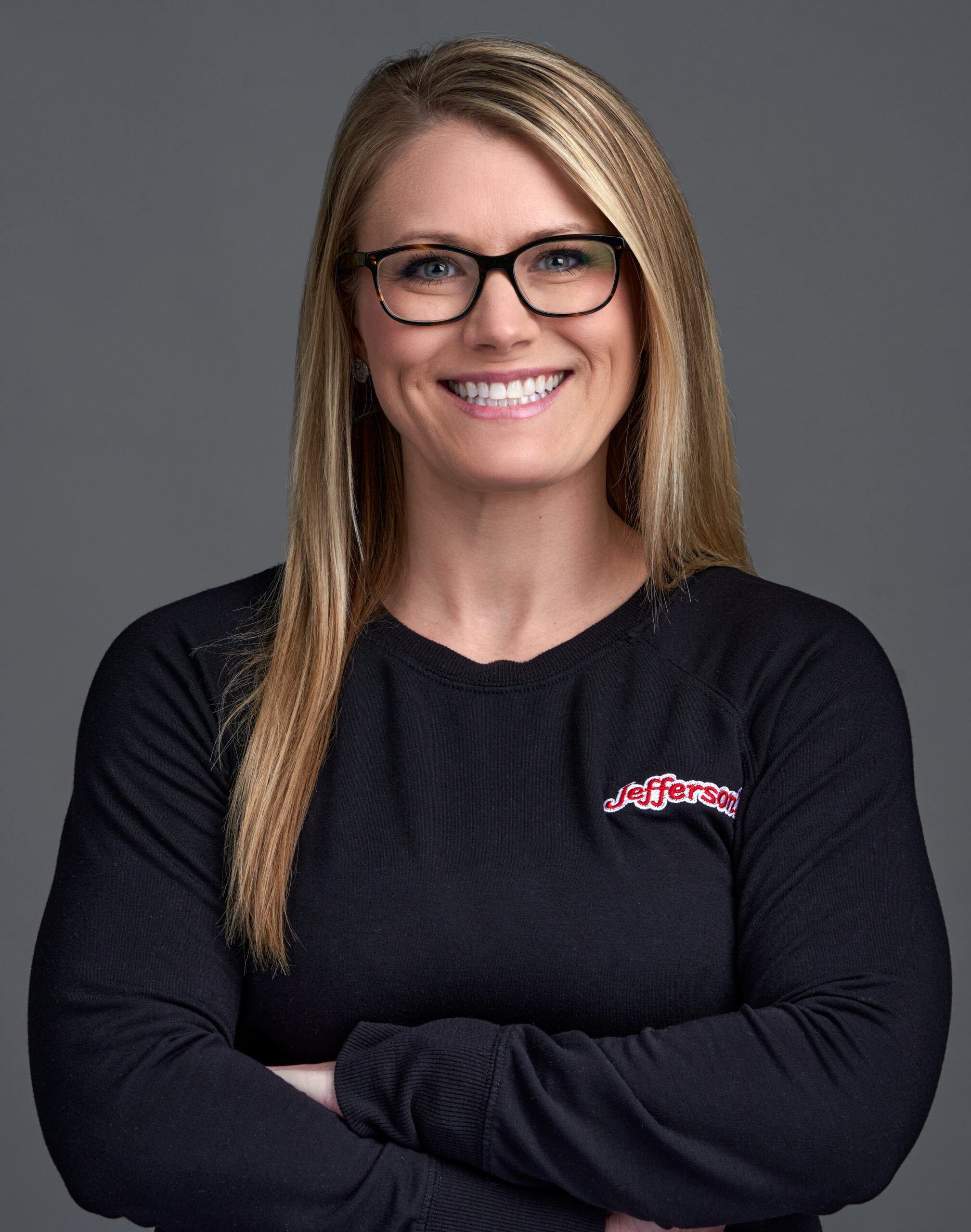 Director of Franchise Development
Janene Krueger joined Jefferson's Franchise Systems in January 2021 following a 10-year career spanning management in digital and broadcast media sales, marketing for non-profit organizations, marketing and communications consulting and a career beginning with multimedia reporting following her graduation from KU with a bachelor's in Journalism: News and Information.
With a master's degree she completed in Integrated Marketing Communications through KU in 2021, and a diverse background in media, marketing communications and sales, Janene brings something to the table in almost every area of the Jefferson's Franchise System. Her primary focus is on growing the Jefferson's brands in fan-filled cities and future restaurant homes across the nation!
Janene and her two daughters, who always request jalapeño mac and cheese bites and funnel cake fries with their meal, were avid fans at their local Jefferson's West long before she began a career with the company. When not working or studying, Janene can be found doing something active indoors or out with her daughters, her significant other and their black labrador retriever!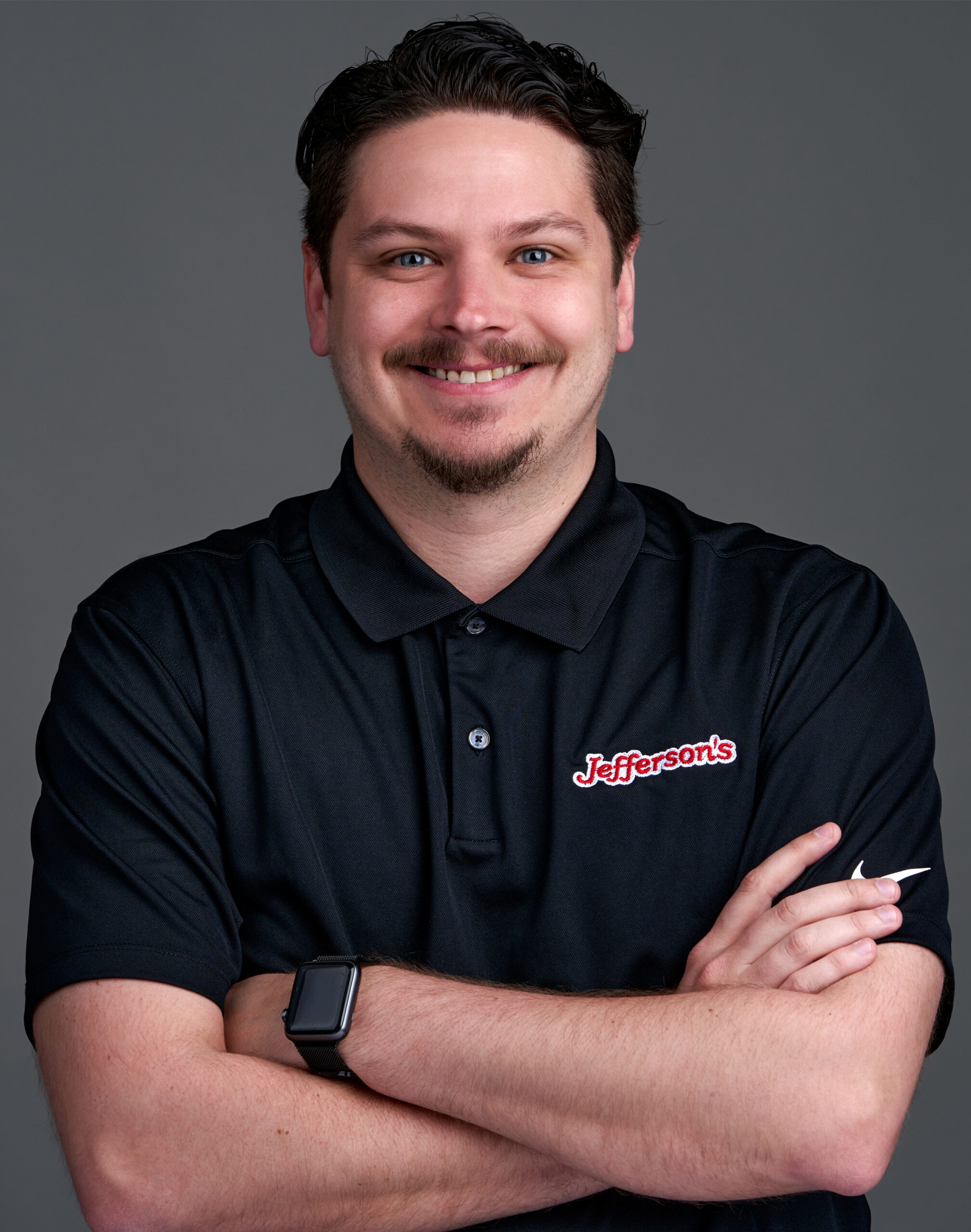 Director of Back of House Operations
Tim is a former General Manager for the Jefferson's Downtown Lawrence location. In his 6 years in this location, he worked in every facet of the restaurant in his tenure from back-of-house to front-of-house to management. He has almost two decades of experience in the restaurant industry, including his most recent position with Granite City Food & Brewery in Naperville, IL.
Tim couldn't stay away from Jefferson's for long and joined the team in 2021 to lead back of house operations. He is excited to be back with Jefferson's and to be a part of the growth of the system.
New Restaurant Operations Consultant
Starting his restaurant journey on store opening teams for brands like Buffalo Wild Wings, Chuy's, and our very own Jefferson's, Nick has become an expert in training, p and l's, and sales growth.
In January of 2013, the founder of Jefferson's reached out to Nick about purchasing the Murfreesboro, TN location. Nick came on board as the Director of Operations for the brand and owner of the Murfreesboro location. Since then Nick has continued that role for Jefferson's Franchise Systems, and in partnership with his brother, they now own six additional Jefferson's and a branded food truck. The restaurants are located in Gadsden, AL; Hiram, GA; Rockmart, GA; Villa Rica, GA; Brentwood, TN; Murfreesboro, TN and Manchester, TN while the food truck operates in the Middle Tennessee area.
Nick considers himself a Jefferson's maniac. It's his favorite thing to talk about, and reflecting on the opportunities that Jefferson's has created for him is what fuels his passion to want to continue to grow and succeed. He's in the unique position of being a franchisee and working on the "corporate" team which allows him to see things from multiple perspectives. His motto is do everything with the guest in mind first. He's probably most proud of the relationships he's built with franchisees, team members, vendors, and guests. Nick would be the first to tell you that he's available 24/7 whether it's for urgent help or just a listening ear.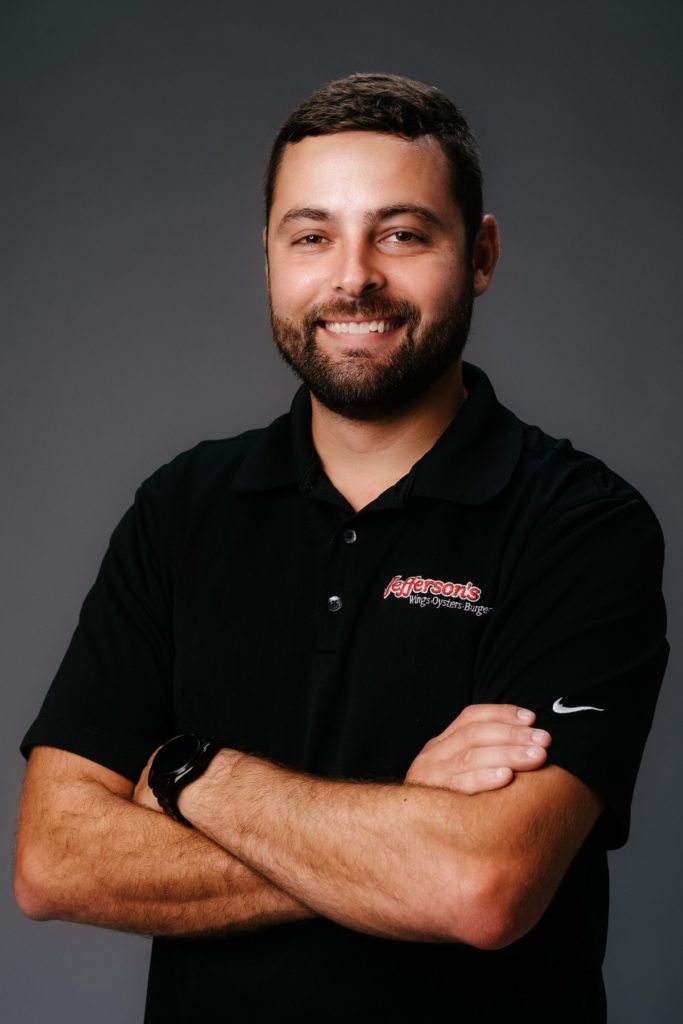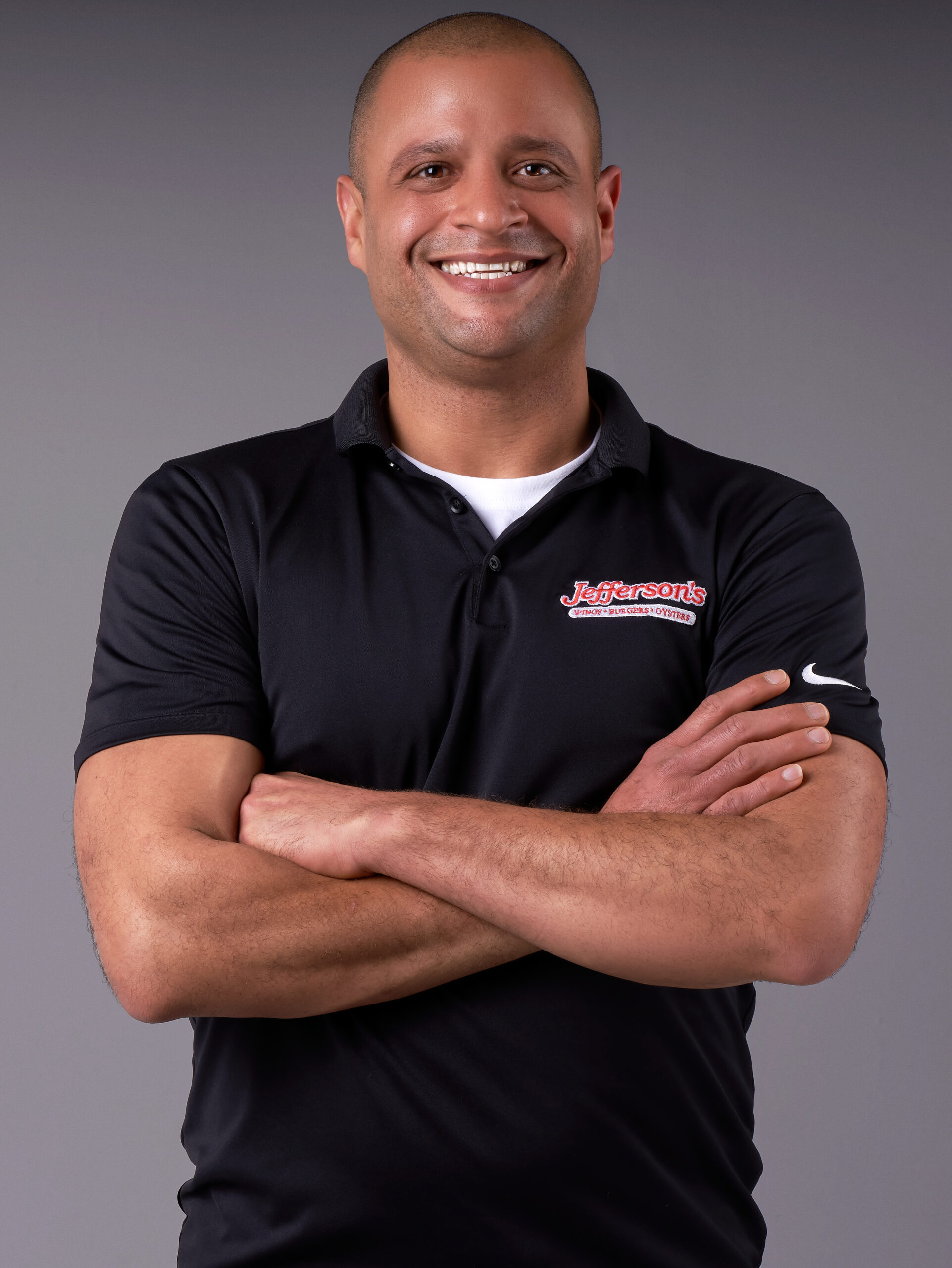 Director of Operations—WingStand by Jefferson's
Over the last 25 years, Michael has played a central roll in multiple restaurant operations. An operator at heart and an expert in the Quick Serve space, he carries with him a wealth of knowledge and enthusiasm. Through his style and unrelenting passion, he has spearheaded numerous restaurant concept turnarounds. From mentoring, to management and ownership, to operations and execution; his expertise continues to produce a proven track record of success. Michael's love for the business has lead him to be on several successful concept development teams, collaborating with some of the best in the business. He joined Jefferson's Franchise Systems in 2020 because who wouldn't love a career filled with "Peace, Love, and Hot Wings"?
 In 2018, Alexandra joined Jefferson's as its Controller. She previously worked with Profit Plus Business Solutions, LLC located in De Soto, KS in accounting and payroll services focusing on the restaurant industry. Prior to working for Profit Plus Business Solutions, LLC, she was an outside controller engaged by Prosody Consulting, LLC located in Kansas City, MO. From 2006 to 2012, Alexandra worked as a controller for IRR-Residential, LLC in Westwood, KS.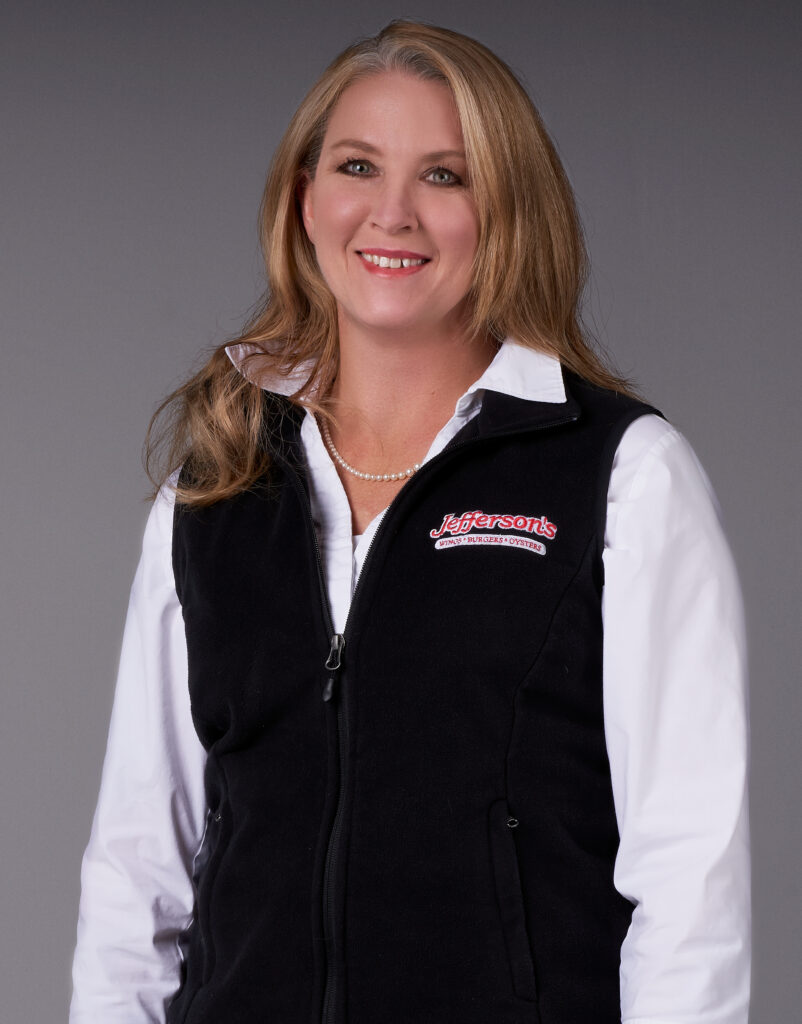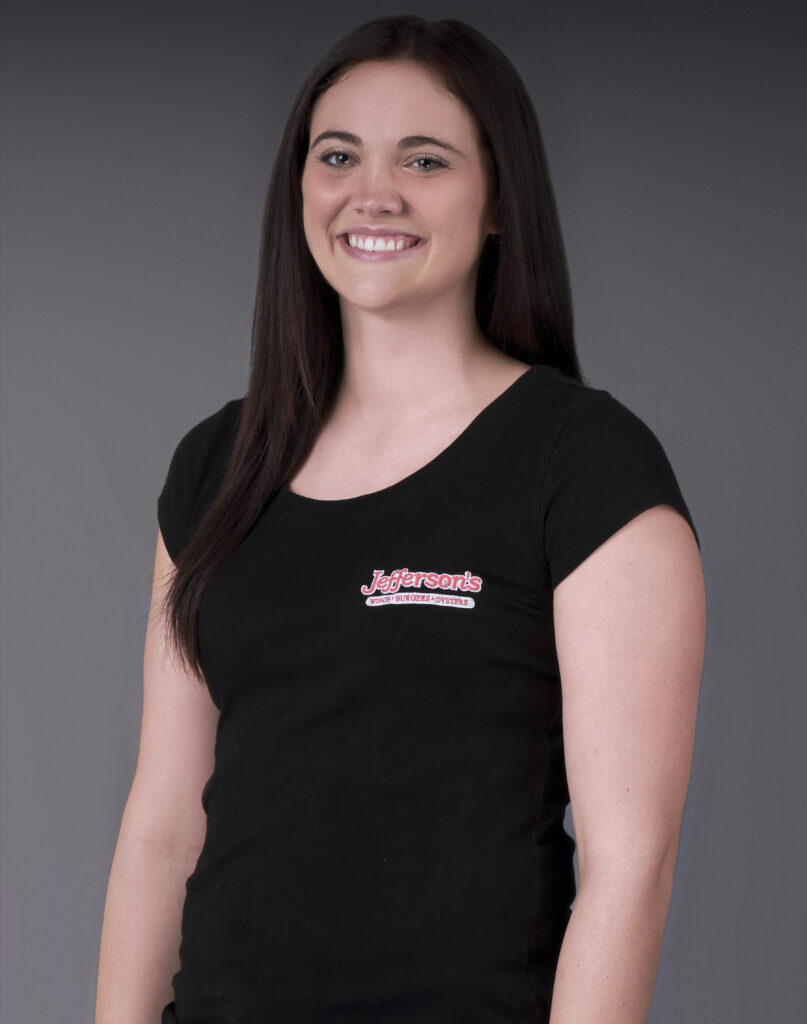 On Peyton's first day in Kansas, her college tour guide said, "If you're looking for a spot for lunch, go to Jefferson's. It's the best place in town." She's been hooked ever since. She started her Jefferson's career soon after as a server, bartender and manager in the Lawrence, KS locations as a student. After graduating from the University of Kansas in 2018, she joined Jefferson's Franchise Systems, focusing on advertising, digital innovation, menu development and overall brand experience. 
Peyton takes the same energy into her personal life, creating an intense fandom of all things Jefferson's out of her friends. When not working, she can be found experimenting with her own recipes, trying every local restaurant and embracing her calling to find all the best beers in Kansas City.
Director of Field Marketing—WingStand by Jefferson's
 Hannah's time at Jefferson's began in 2013 where she worked as a server in the Downtown Lawrence location while attending the University of Kansas. After graduation, she moved to NYC, starting her career in the hospitality industry as a corporate meeting and events planner for both domestic and international clients. She has always had a heart for people and loves creating environments for others to celebrate together.
 After returning to Kansas, she joined Jefferson's Franchise Systems in 2021 as the Director of Field Marketing. Hannah is most excited about cultivating relationships within our local communities.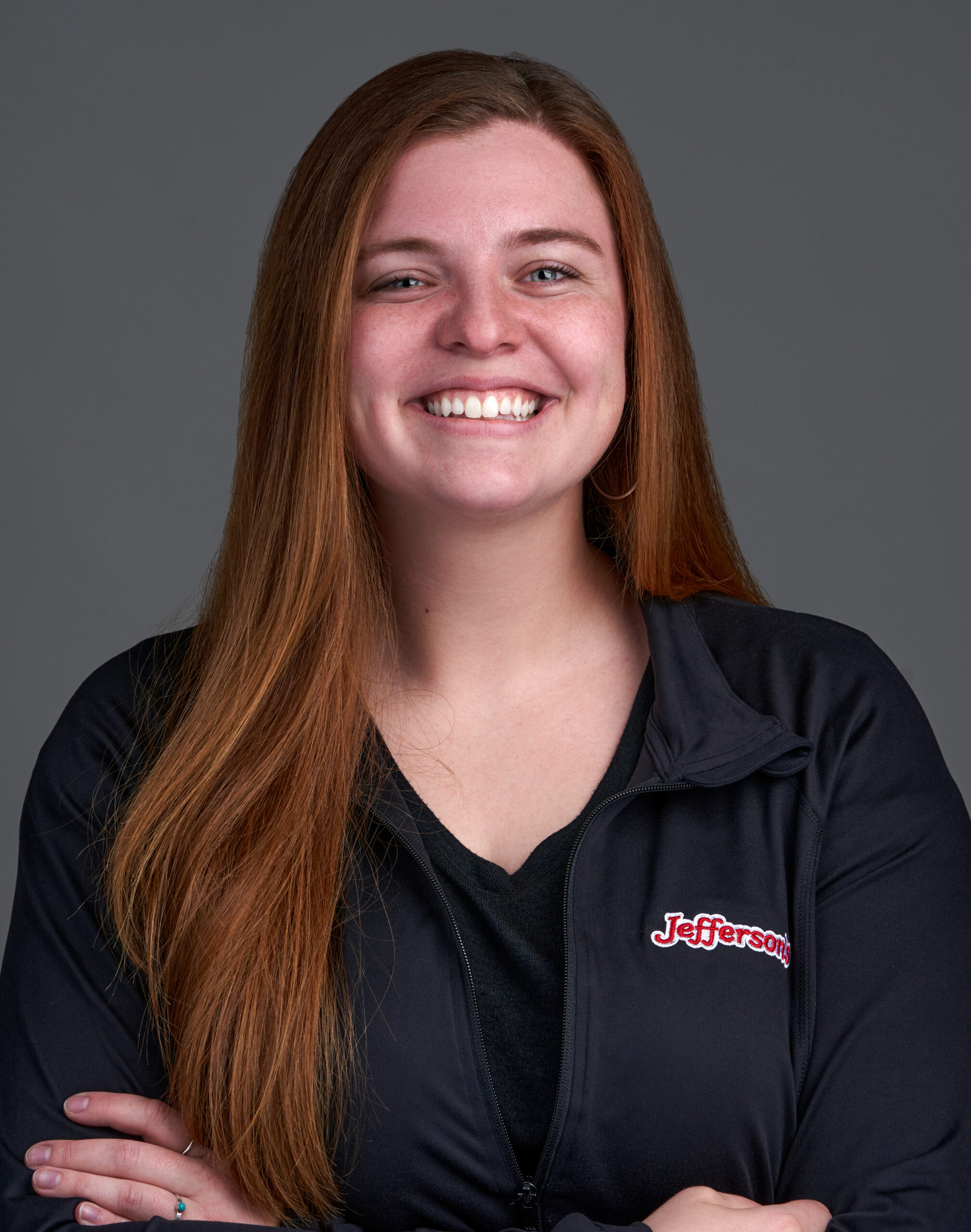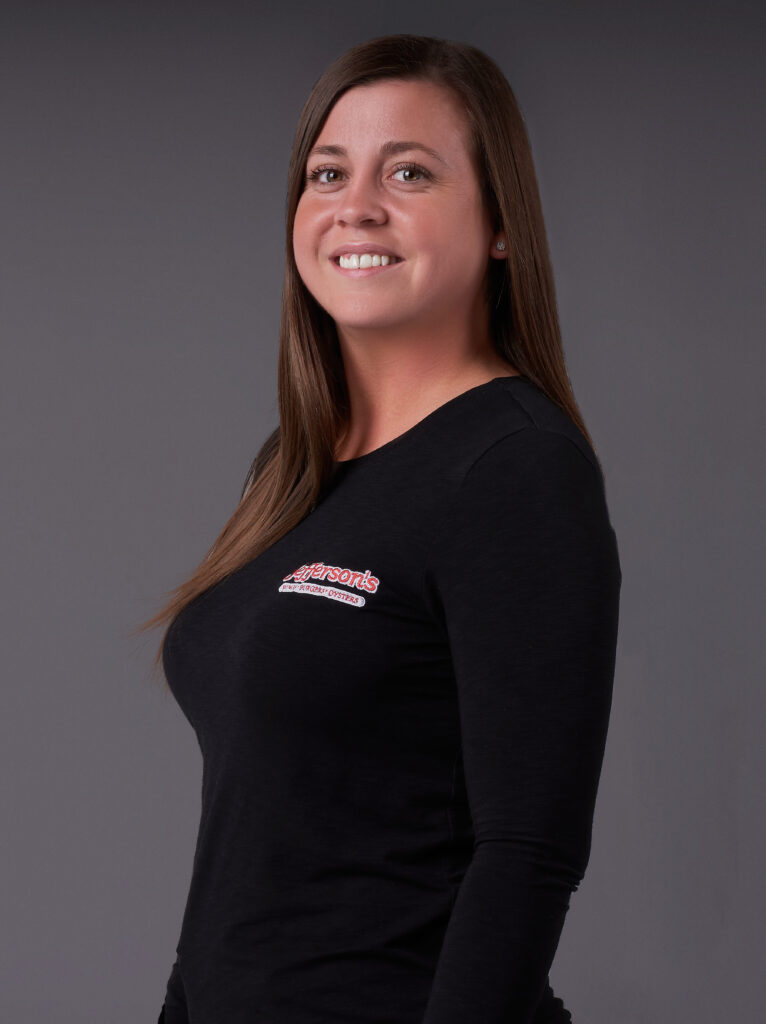 Operations Support Assistant
Chelsea began her career at Jefferson's in July 2010 at the Downtown Lawrence, KS location. Starting as a part-time server while in college, she worked her way up through multiple promotions, eventually becoming the Assistant General Manager and Manager of Front of House. 
She first moved to Lawrence to attend the University of Kansas for a Child Psychology degree but found her passion in the restaurant business. Chelsea has been Jefferson's Franchise Systems' Operations Support Assistant for two years now, filling numerous support roles and managing the office.
Chelsea is, and always has been, outstanding with our guests and has made regulars out of first time customers her whole career. She is an excellent trainer and teacher in all aspects of the front of house operations, especially the instinctive nuances that make her an elite server, teacher and trainer.
In her personal time, Chelsea has a 5 year old daughter who keeps her on her toes. The two of them have lunch at the Downtown Lawrence location every Saturday. Her daughter loves to welcome each customer that walks in with our famous Jefferson's greeting, "Welcome to Jefferson's, you can take a seat wherever you'd like!" 
The Jefferson's Foundation Executive Director
Pam received her MPA with an emphasis in nonprofit, from Park University in 2016. She joined the Jefferson's Foundation as Executive Director in 2018. Prior to joining the foundation, she worked for Graham Restaurant Group as the Director of Marketing and Community Outreach.
She also sat on the board for Gold Glove Charities and worked for 11 years as the Director of a local nonprofit that offered recreation programs for children. She is excited every day about working with the Jefferson's organization and is inspired by their commitment and vision to assist all children, who are less fortunate, by offering them support when needed and to ensure these children receive the physical and financial needs to encourage a stable and healthy environment to grow and develop.
Pam is married, has four children and nine grandchildren. Her spare time consists of attending her grandchildren's ballgames, wrestling matches, dance recitals and other activities. She and her husband are diehard KC Royal and KC Chief fans and of course, they love their Jayhawks!